The 2023 Mineral County Art Show will be held this year at the Keyser High School gymnasium Monday, May 1st and Tuesday May 2nd from 6:00pm to 8:00pm. Come and see the beautiful art displays representing students from all grades in the Mineral County schools. Admission is free and all are welcome. Hope to see you there!

MAKE A DIFFERENCE with CHILDREN'S LITERACY this Summer and EARN MONEY FOR COLLEGE! Help bridge the summer literacy gap for youths and earn money for college by serving as an AmeriCorps member with Energy Express. This summer the need is greater than ever to maintain children's reading to be ready for the new school year. The program dates are June 7th – July 28th. Benefits to serving include: Knowing you Made a Difference Being a part of a Team $1,374.60 Education Award $2,350 Living Allowance Serve 2 years and receive a semester of college tuition in WV. Gaining critical skills Service with the National AmeriCorps program Those interested in serving as mentors or community coordinators must be 18 years of age by June 7 to apply. Contact the WVU Mineral County Extension Service for application information. Call 304-788-3621 or email
m.miltenberger@mail.wvu.edu
Energy Express is an award-winning, a six-week reading and nutrition program. This summer the program will help children entering 1st through 3rd grades overcome the 'summer slide' that occurs when youths fall behind academically, while also providing nutritious meals for the students. "Mentors this summer will benefit from being a part of the program by being able to build connections with children and with other mentors," says Hannah Raines, 2022 Site Supervisor. "They will be a part of a close-knit team and be exposed to a professional setting, the fosters a fun and creative environment." "Serving as an AmeriCorps* member is a solid summer experience in preparation for a professional job," says Margaret Miltenberger, WVU Extension Service, 4-H Extension Agent. "You will practice organization, planning, team work and professionalism, which are good skills whether you plan to work as an educator or in another career field." The Energy Express program is under the leadership of WVU Extension Service's 4-H Youth Development program. The Community Trust Foundation and United Way are important partners in supporting the Mineral County program. CTF is committed to building stronger communities in Allegany, Garrett, and Mineral counties.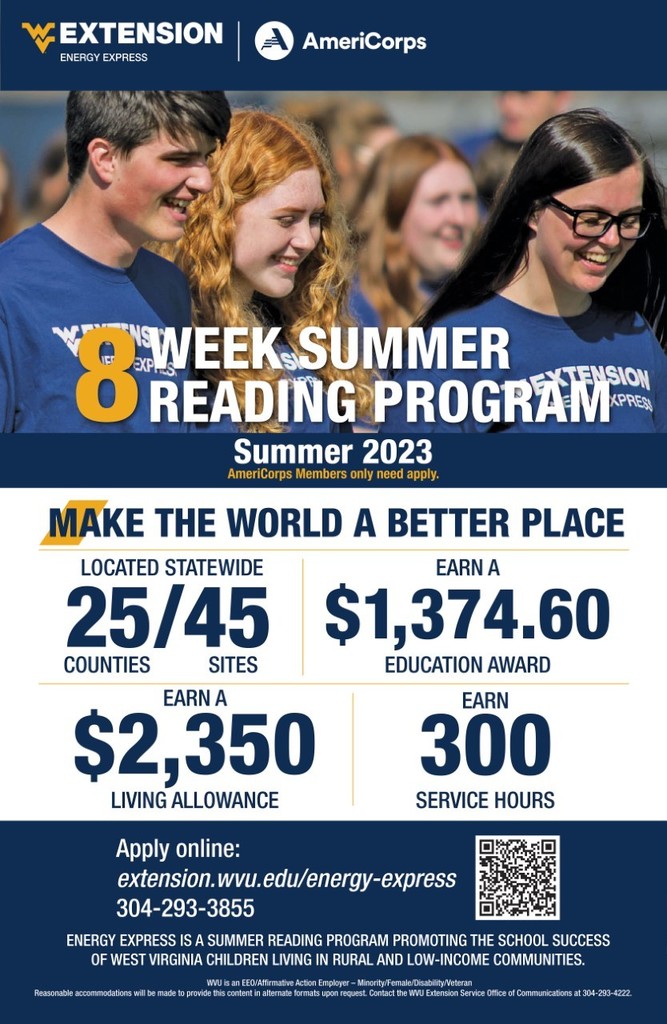 Don't forget! The Mineral County STEM Festival is happening on Saturday, March 25 from 12 to 4 on the Potomac State College Campus. Free activities for all ages.

Mineral County STEM Festival is March 25 from noon to 4:00 pm at WVU Potomac State College. All activities are FREE! Bring your family for a great afternoon of hands-on activities.

Please disregard the "test message" that was sent this morning by a Thrillshare user by mistake. Sorry for any disruption or confusion.

The 2022 Mineral County Art Show will take place in the Frankfort High School gymnasium on Monday April 25th and Tuesday, April 26th. The show is open to the public from 6:00 to 8:00pm both evenings. Student artwork will be featured from every school and grade level in Mineral County. Bring the family and enjoy the wonderful exhibit created by our amazing students.

The Keyser High School Key Club is collecting money for the Wounded Warrior Project. Students can turn in their donation to their advisory teacher. Key Club Ceremony and Awards Program will take place Sunday, April 3 at 3 pm in the Keyser High School Auditorium. Key Club members and families are invited to attend.

Keyser High School will be remote learning today, Tuesday January 25th, due to heating issues. Staff report normally.

1.24.22 KHS Announcement KHS will be releasing at 1230 today due to heating issues within the building.

There will be a 3-hour early dismissal tomorrow Friday, November 19. There will be No School November 22-26 for Thanksgiving Break.