There will be no school for Keyser Middle School or the Alternative School tomorrow, Tuesday May 23rd, due to plumbing repairs.

KMS 6th graders attending camp this coming week will be bused back to the school on Friday May 26th at 9:00 AM in order to participate in year end field day activities with their classmates if they choose to do so. Students and their luggage may be picked up up anytime after they return to the school.

There will be no school for 5th grade students at Keyser Middle School tomorrow, Friday May 12, due to lack of staffing. Please check for assignments on Schoology.

The 2023 Mineral County Art Show will be held this year at the Keyser High School gymnasium Monday, May 1st and Tuesday May 2nd from 6:00pm to 8:00pm. Come and see the beautiful art displays representing students from all grades in the Mineral County schools. Admission is free and all are welcome. Hope to see you there!

Don't forget! The Mineral County STEM Festival is happening on Saturday, March 25 from 12 to 4 on the Potomac State College Campus. Free activities for all ages.

Mineral County STEM Festival is March 25 from noon to 4:00 pm at WVU Potomac State College. All activities are FREE! Bring your family for a great afternoon of hands-on activities.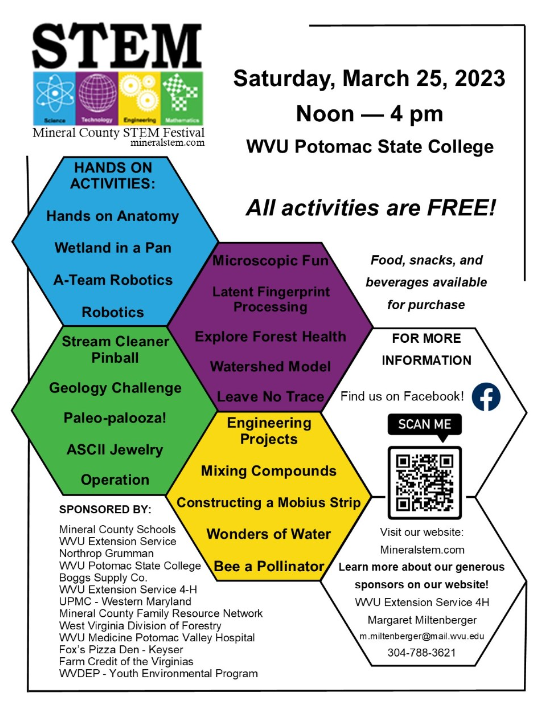 Please disregard the "test message" that was sent this morning by a Thrillshare user by mistake. Sorry for any disruption or confusion.

In an abudance of caution, students were evacuated from Keyser Middle this morning when the fire alarm went off during arrival. After receiving clearance from the fire department, students had the option to have breakfast before reporting to class.

The 2022 Mineral County Art Show will take place in the Frankfort High School gymnasium on Monday April 25th and Tuesday, April 26th. The show is open to the public from 6:00 to 8:00pm both evenings. Student artwork will be featured from every school and grade level in Mineral County. Bring the family and enjoy the wonderful exhibit created by our amazing students.
Registration is now open for July 25th - July 29th camp for middle school-aged children. Scholarships are available!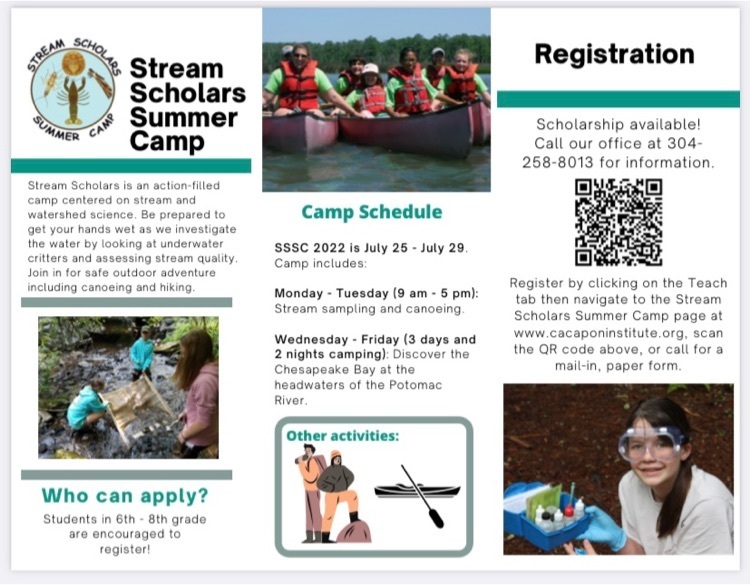 Dear KMS parents, As you may be aware, there have been rumors circulating today about the threat of school violence based on a picture of a written threat on a wall which has been shared as if it's a photo of a KMS wall. Please know this has been investigated by our School Resource Officer and local law enforcement. This photo, which warns of a threat, is not from our buildings. This photo has been circulating on social media across the country and caused similar rumors and reactions in many other schools and school districts. We will continue to monitor this situation and we will have increased law enforcement presence tomorrow. Thank you
If you have not yet met with Mrs. Flaugher about your child's Personalized Education Plan (PEP) and course requests for next school year, please click on this link to schedule an appointment. You will first choose either "in-person" (if you want to meet at KMS) or "virtual" (if you want to have a Microsoft Teams meeting), then you will be able to choose a date and time between now and Christmas break.
https://tinyurl.com/KMSPEPS

We will be conducting a mandatory drill this afternoon between 1:15 and 2 pm. If you need your student, please pick them up prior to or after the drill. You will be unable to do so during the drill. Thank you for your understanding.

Good evening KMS Families Students are getting ready for Red Ribbon Week® 2021 – this year's theme is: Drug Free Looks Like Me. At school, students will engage in activities that promote a drug free and healthy lifestyle. Please partner with us and discuss this message at home, at the dinner table, at family outings, and with friends and extended family. Ask your child to show you the flyer  he/she received from school about Red Ribbon Week® on Schoology.

Buses 92 and 58 will not be running today. We're sorry for any inconvenience.

Keyser Middle School Families All students have been given the opportunity to receive a school issued device. It is imperative for students to bring devices charged to class for daily work along with their chargers when they come to school. We do not have extra chargers for student to use when they forget to charge their device. The school has also provided every student with their own earbuds but students may bring their own earbuds to use.

School Reach Message 10/8/2021 Good evening, Keyser Middle School families Parents are reminded that after school tutoring will be on Tuesdays and Thursdays from 3:30 to 4:30. 2020-2021 Yearbooks are still available in the main office for purchase. Cost is $25.  Picture Day has been rescheduled and will be Thursday, October 28, 2021   7th grade students will be going to Potomac State for a field trip on October 12th.    Permission slip forms were sent home on Monday, October 4th and posted to Schoology by Mr. Gahr.  They are to be submitted by Monday, October 11.       Students are reminded to please charge their devices Sunday night for testing that will begin on Monday morning.  Finally, Hat Day will be Friday, October 15. Students can pay $1 to wear a hat during school. All proceeds benefit the local food pantry.  Thank you. 

KMS will be remote learning tomorrow, Friday Oct 8, due to lack of staffing. On remote learning days, students need to check in with their teachers each period starting at 8 am. If you need assistance contact the teachers using Schoology or call the school during normal school hours.

9.30.21 Keyser Middle School will be remote learning tomorrow, Friday October 1, due to lack of staffing. Please look for messages from teachers as it relates to remote school work and call during school hours with any questions. Picture day will be rescheduled. Available staff will report normally.

School will be in session tomorrow Sept 30, 2021. Please remember to bring your devices charged and don't forget your cords.