Don't forget! The Mineral County STEM Festival is happening on Saturday, March 25 from 12 to 4 on the Potomac State College Campus. Free activities for all ages.

Mineral County STEM Festival is March 25 from noon to 4:00 pm at WVU Potomac State College. All activities are FREE! Bring your family for a great afternoon of hands-on activities.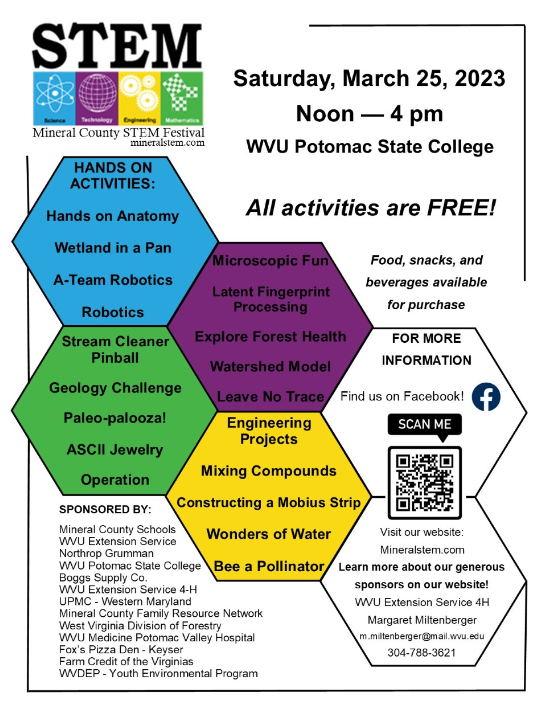 Please disregard the "test message" that was sent this morning by a Thrillshare user by mistake. Sorry for any disruption or confusion.

The Elk Garden District will operate on a 2 hour delay today, Wednesday November 16.

The 2022 Mineral County Art Show will take place in the Frankfort High School gymnasium on Monday April 25th and Tuesday, April 26th. The show is open to the public from 6:00 to 8:00pm both evenings. Student artwork will be featured from every school and grade level in Mineral County. Bring the family and enjoy the wonderful exhibit created by our amazing students.

The Elk Garden District will be closed today. This includes the primary school and the middle and high school students from Elk Garden.

Message for the Elk Garden District for Wednesday January 26: Elk Garden Primary will be closed due to heating issues. Elk Garden Middle/High students will be on a 2-hour delay due to frigid morning temperatures.


Enjoy your summer! We'll see our students again on August 20!