The 2023 Mineral County Art Show will be held this year at the Keyser High School gymnasium Monday, May 1st and Tuesday May 2nd from 6:00pm to 8:00pm. Come and see the beautiful art displays representing students from all grades in the Mineral County schools. Admission is free and all are welcome. Hope to see you there!

Don't forget! The Mineral County STEM Festival is happening on Saturday, March 25 from 12 to 4 on the Potomac State College Campus. Free activities for all ages.

Mineral County STEM Festival is March 25 from noon to 4:00 pm at WVU Potomac State College. All activities are FREE! Bring your family for a great afternoon of hands-on activities.

Please disregard the "test message" that was sent this morning by a Thrillshare user by mistake. Sorry for any disruption or confusion.
New Creek Families. The New Creek Public service District in under a boil water advisory until at least late Wednesday morning. We will have to close our fountains and water bottle filling stations until the advisory is lifted. please send a bottle of water to school with your student until we get the all clear. Thank you!
Tomorrow, Friday, September 16th is a three hour early release day. Parent Pick-up is at 11:20 and buses will pull out at 11:30.
Reminder Little Caesar's Pizza Fundraiser order form and money is due by Thursday, September 22nd by 7:30 AM. Thank you.

The 2022 Mineral County Art Show will take place in the Frankfort High School gymnasium on Monday April 25th and Tuesday, April 26th. The show is open to the public from 6:00 to 8:00pm both evenings. Student artwork will be featured from every school and grade level in Mineral County. Bring the family and enjoy the wonderful exhibit created by our amazing students.
Just a reminder that Potomac Valley Hospital is sponsoring Heart Healthy Kids activity after school tomorrow (March 15) from 2:30 to 3:30. If your want your child to participate, please return the permission slip by Tuesday morning! Thank you!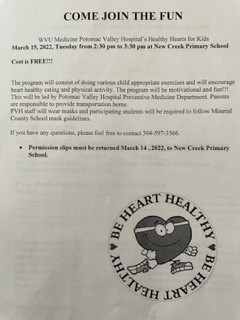 New Creek Primary Families, We are experiencing high levels of traffic during our morning drop off and are asking for your help with traffic flow. If you need to help your child get out of the car, please pull into the parking lot. Your child can then use the sidewalk from the parking lot to safely enter the building. Our bus drop off loop should only be used if you can quickly drop and go. When using the loop, please pull as far forward as possible. We are hoping that these adjustments will keep traffic moving and eliminate the need for people and buses from having to sit on the hill. (That turn is really tight!)
There is one more chance for your student to shop PTO's Santa's Workshop. If your student has not shopped or needs to purchase additional gifts, please send money in tomorrow, Wednesday, December 15th.
Friday, December 10th is a Three hour early release day.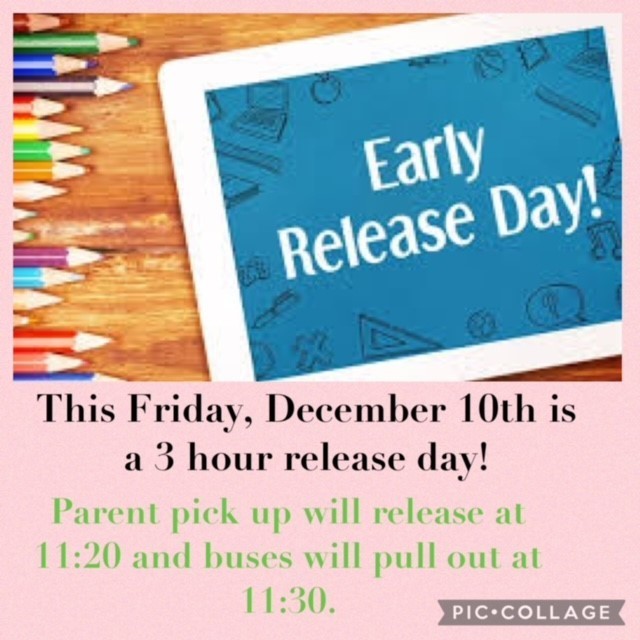 Tomorrow's Lunch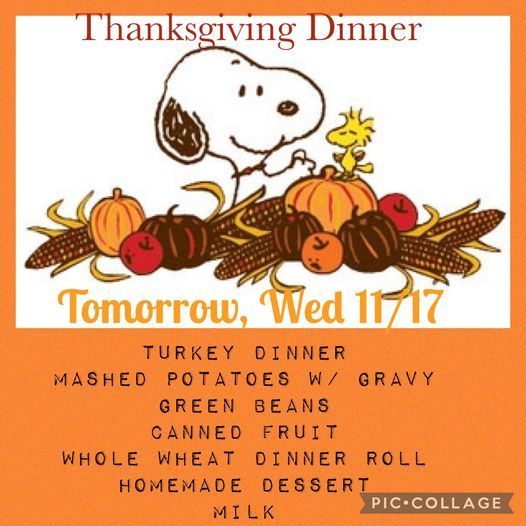 We will be having a PTO Meeting on Tuesday, November 30th at 5:00 pm at the school.
We will be having a PTO Meeting on Tuesday, November 9th at 5:00 pm at the school.
Report Cards were sent home today. Please sign the back of the envelope and return the empty envelope to school on Monday. Thank you!
Parent Teacher Conferences are scheduled for Friday, November 12 from 8am-2pm. Conferences will take place by phone or virtually. Sign ups were sent home on Monday. Please contact your child's teacher if you would like to schedule an appointment.
Reminder tomorrow is the Halloween Parade. Please do not send your child in their costume. Staff will help them get ready at parade time. This is a student only activity.
Just a reminder that Friday, October 29th is a 3 hour early dismissal.
Just a reminder that Friday, Oct 15 will be a 3 hour early dismissal.